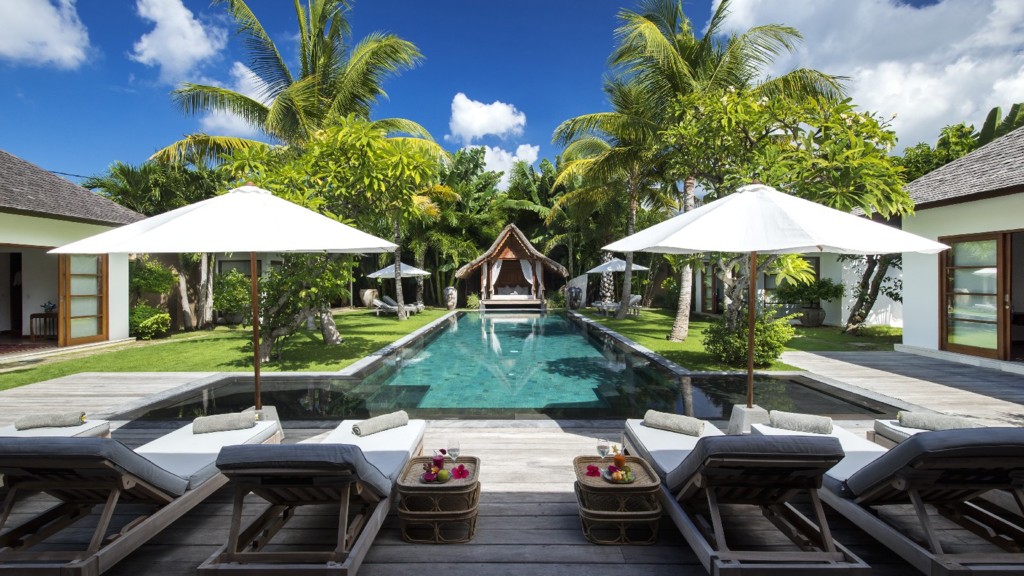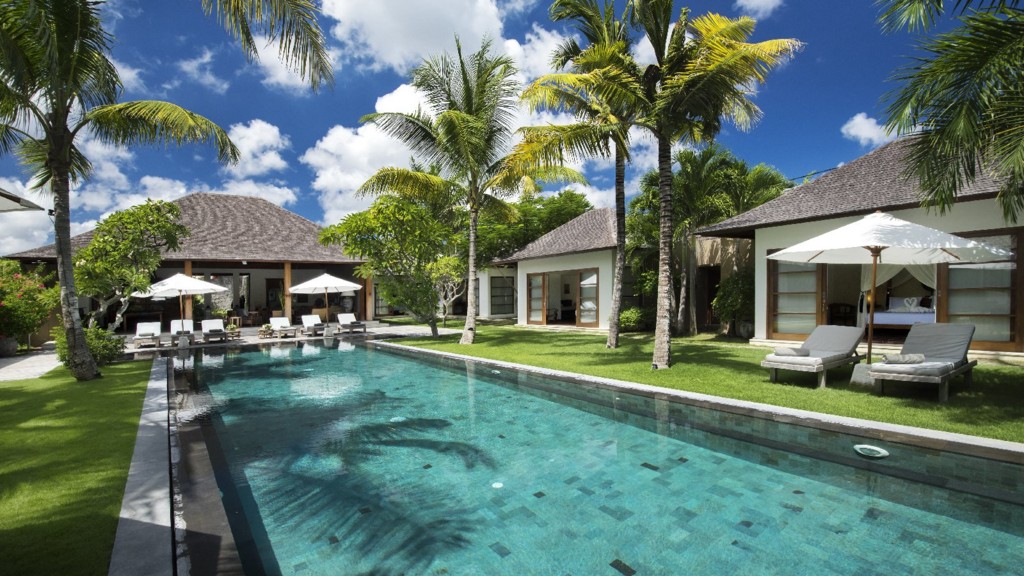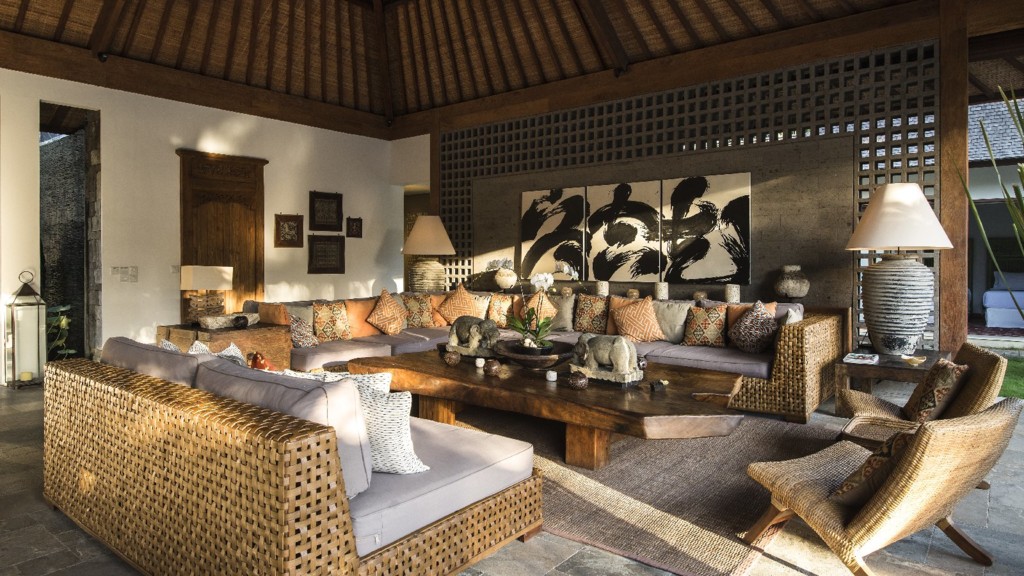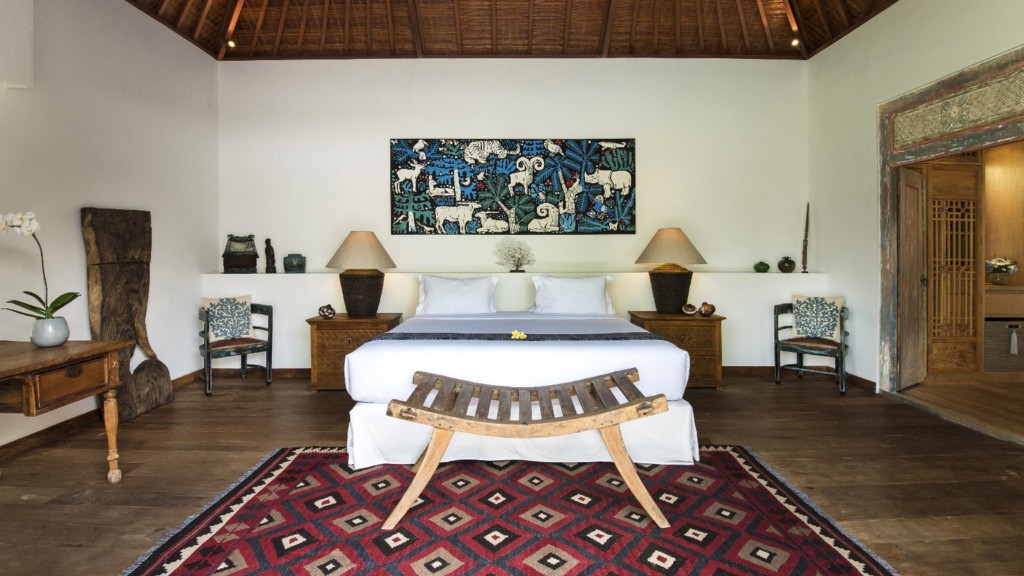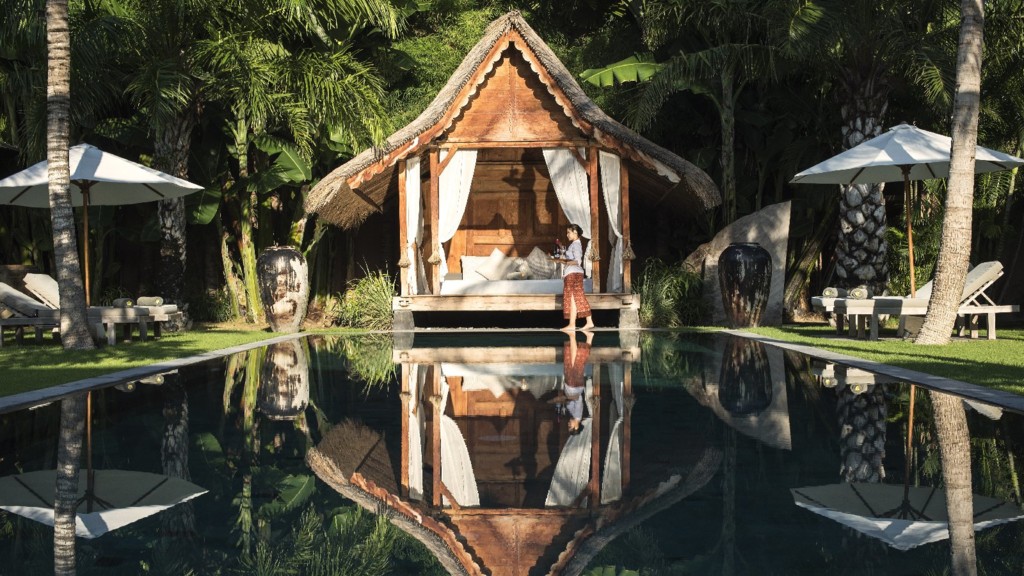 About Villa Tiga Puluh
Villa Tiga Puluh is a shining example of that emerging, new and even progressive genre or trend in resort living which can be loosely referred to as Neo-classical Balinese. The structures and forms are recognizably traditional. Yet, equally evident are touches and traces of contemporary finishing and styling. One other feature, though, that sets the villa apart is its masterful layout. The expansive property was well maximized to allow the building of facilities and spaces that can offer total pleasure, fun, leisure and tranquility to every guest especially of large groups.
Outdoor And Pool Area
At the center of the extensive and lush tropical garden is the
palm-fringed, 20-meter Swimming Pool
. In its cool, glassy waters you can be active and brisk or languid and slow. But out of the water, its utmost relaxation – enjoying the heat of the sun tempered by the balmy breeze while you're stretched out on a
Pool Bed under the shade of the large Pool Umbrella
on the wooden deck. Or, getting a soothing massage in the softness of the semi-open
Gladak
at the other end of the swimming pool.
The Living Area
An open and spacious
Pavilion houses the Living Area
where you can all lounge around on hefty, native, cushioned Couches and Chairs. For experiential, interactive or literary entertainment, you can retreat to the
TV Room
. Settle comfortably on the large Couches and take your pick from the
wide selection of DVDs, Books and Board Games
. Nearby is the
Dining Area
with its long Dining Table for ten where you can sample and savor the scrumptious concoctions of the villa's in-house Chef – whether authentic local cuisine or international favorites.
The Bedrooms
The villa has a total of
seven Bedrooms which take the form of Bungalows symmetrically surrounding the swimming pool
. There's only
one Master Suite
. It has a Dressing Room that connects to the Bathroom with a shower and bathtub. There are
two Deluxe Suites
. Also with Dressing Rooms but with Semi-Open Bathrooms. There are, as well,
four Suites
that have Dressing Rooms and Bathrooms with Outdoor Showers. One Deluxe Suite may be connected to an adjacent Suite to form a Family Room. Should one of the Suites be vacant, it may be transformed into a Spa Room. All Bedrooms are provided with a Mini Bar and Satellite TV. All open out and have direct access to the swimming pool.
Staff And Services
Headed by a
Manager, the villa has a Staff of Seven Butlers and five other members
. Each and everyone will quickly – and gladly – attend to your every need and request. Other villa services include Breakfast Service, Housekeeping, Pool Maintenance, Grocery Assistance, Bartending and Overnight Security. Laundry, Massage, Babysitting, Scooter and Car Rental with or without a Driver can be made available but come with a separate charge.
Around Villa Tiga Puluh
Villa Tiga Puluh is just a minute away from cosmopolitan Seminyak's
Oberoi District – very popular for its Eat Street
. The Must-Tries among its casual to fine dining restaurants are
La Lucciola and Mamasan
. An additional four-minute walk will take you to
Seminyak Beach
where you will find
designer and novelty shops as well as cozy cafes and go-to bars and clubs like Ku De Ta
.
Click here to see all 41 villa pictures
we were searching for a big house where everyone could be together but has his own bungalow room , and a big swimming pool with the sun all day on it. the staff was very good , and were at our disposition anytime we need something . the perfect house for our wedding .
We recently stayed with friends and family for a celebration. We cannot speak highly enough of this villa. The staff could not help you enough - they were were attentive, yet not intrusive. The rooms were all beautifully decked out and the living area superb. The pool was huge with a gorgeous day bed. This villa sits down a gang off Jalan Drupadi - a short stroll to restaurants and dayspas. Breakfast was fantastic. The staff catered for our function and it was absolutely superb !!! Meigi the manager was wonderful - so helpful and highly efficient. We also had the villa decorated for our special event. We were amazed ! Spectacular - it was better than we could have ever hoped for. Thank you Villa Tiga Puluh for making our stay so memorable - we cant wait to come back again.
You don't so much 'stay' at Tiga Puluh - you experience it. I recently returned from a 4 night stay at this property as part of my 40th birthday celebrations and I can honestly say that it lived up to my every expectation and beyond. The property fit out is exceptional. The fixtures and furniture are new and high quality and when staying there, you really feel a sense of "next level" exclusivity that can rarely be found in Bali. The villas are well laid out and tastefully decorated and each has its own personality and ambiance - and the bathrooms? Nothing short of spectacular. Breakfasts are great with good variety and an onsite chef there to prepare your food and cook it just the way you like it. And if you find you don't feel like braving the streets to go to a restaurant at any other time of the day, you can order food off of their menu and they will prepare it fresh onsite for you. On our first night they prepared an Indonesian feast for 17 people which was fantastic and very well priced. The WiFi is great and the location is perfect - a short walk to shopping and cafes but far enough away to disconnect from the hustle and bustle. But what sets this place above and beyond are the staff. Nothing was too much trouble and any issues that we encountered were dealt with quickly and professionally to the satisfaction of all parties. They were consistently attentive, friendly and interactive enough to ensure that we never wanted for anything during our time there. We and our visitors were greeted with cold towels and a smile each and every time time we returned from an excursion and the upkeep of the complex was immaculate. I can't thank these guys enough for helping to make our experience truly special and one that my family, friends and I will remember forever. I thoroughly recommend Tiga Puluh
Trip was amazing - Staff are always there and speak perfect English, they can help with pretty much anything! They helped arrange transfers, bike rentals, tours - anything you can think of, all at a very god price. Never any problems with the wifi - which is often taken for granted. Villa itself was beautiful - great for groups. Pool in the middle is lovely, with rooms alongside semi-detached for a little privacy :) Breakfast provided was great - made to order TV room is a nice touch for staying in and watching movies - comes with a large selection to choose from. Living and dining room very spacious and the kitchen is well stocked - we hosted a lovely dinner and drinks for 15 people and the staff were great with the service - 10/10 will be back!
I just spent 10 days in this paradise villa with friends and I already miss it so much. The villa is lovely, with a tasteful decoration, perfectly clean and well maintained. The staff Meigi, Satur, Andre, Hapzharii, Ketut ... are so lovely and really went above and beyond. I go to Bali every year and I can say that the villa is perfectly located in the heart of Semyniak It is 5 minutes away from all the best restaurant, bar and cozy sunset places (la plancha, favelas, Kudeta, Urchin, Metis, Sardine, Bamboo and so on... ) and the beach is 2 minutes away. I reckon you ask meigi to rent scooter for you. Going out for dinner was good but it was also really nice eating at home. Breakfast is just delicious, the 20 meter pool is perfect for some morning exercices before having organized drop off and pick up to various places around Bali! Magic! Thank you all for making me enjoying my stay so much and I will definitly come back! TERIMA KASIH!!!
From start to finish the experience was great - from easily organising the details of the stay with the lovely Meigi. Having all of our and the children's needs taken care of by the 12 friendly staff. To having surprise birthday decorations and cake organised by Meigi. We had a really relaxing stay at the Villa Tiga Puluh. The villa was beautiful with plenty of space for 11 of us.
Booked the villa with extended family. Villa was superb, room is clean and stylishly furnished. Pool was a delight. Staffs were friendly and accommodating most of the time. On the downside, there were a lot of mosquitoes. My legs were filled with insect bites by the time we left. Staffs tried their best to control the insects but due to surrounding area being empty land, mosquitoes remain a problem. Breakfast provided was also too basic, the only choice we have everyday was bacon, eggs and bread. For four straight days, it was very boring. We have heard about other villas providing cooking service at the cost the groceries plus cooking fees. Definitely not the case in this villa. We requested for bbq dinner for a party of 7 adults and 5 kids, the cost came out to 5 million rupiah. For perspective, dinner at ku de ta for all of us was less than 2 million rupiah. Location was a ten minute walk to oberoi shopping, not near beach. With kids it's a bit of a pain to walk. Taxi was 30000rp to go to shopping or beach clubs, but need some haggling as some taxi drivers tried to charge exorbitant fees.
Here are our availabilities for the next few months:
Minimum stay
5 Rooms
6 Rooms
7 Rooms
from 05/05/2017 to 01/06/2017
Low season
3 nights

USD $

1,271

USD $

1,386

USD $

1,502

from 01/06/2017 to 01/07/2017
Mid-high season
3 nights

USD $

1,501

USD $

1,617

USD $

1,732

from 01/07/2017 to 01/09/2017
High season
5 nights

USD $

1,617

USD $

1,733

USD $

1,848

from 01/09/2017 to 01/10/2017
Mid-high season
3 nights

USD $

1,501

USD $

1,617

USD $

1,732

from 01/10/2017 to 20/12/2017
Low season
3 nights

USD $

1,271

USD $

1,386

USD $

1,502

from 20/12/2017 to 09/01/2018
Peak season
7 nights

USD $

1,964

USD $

2,079

USD $

2,195

from 09/01/2018 to 15/02/2018
Low season
3 nights

USD $

1,271

USD $

1,386

USD $

1,502

from 15/02/2018 to 23/02/2018
High season
5 nights

USD $

1,617

USD $

1,733

USD $

1,848

from 23/02/2018 to 27/03/2018
Low season
3 nights

USD $

1,271

USD $

1,386

USD $

1,502

from 27/03/2018 to 05/04/2018
High season
5 nights

USD $

1,617

USD $

1,733

USD $

1,848

from 05/04/2018 to 01/06/2018
Low season
3 nights

USD $

1,271

USD $

1,386

USD $

1,502